Guests for the 2023-24 Albers Executive Speaker Series are (left to right) Ketul Patel, CEO of Virginia Mason Franciscan Health; Preston Feight, CEO of PACCAR; Sean Tresvant, upcoming CEO of Taco Bell; Barry Posner, leadership scholar and author; and Kris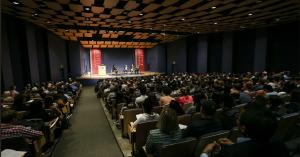 The audience at the Speaker Series panel featuring three former Boeing CEOs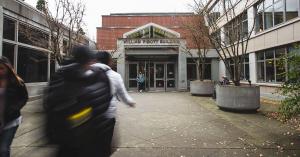 Seattle University's Albers School of Business and Economics is nestled in the heart of Capitol Hill, Seattle
VMFH CEO Ketul Patel, PACCAR CEO Preston Feight, Upcoming Taco Bell CEO Sean Tresvant, leadership scholar Barry Posner, PCC CEO Krish Srinivasan to Speak
SEATTLE, WA, UNITED STATES, August 29, 2023/EINPresswire.com/ — The Albers School of Business and Economics announced its guest lineup for the 2023-24 Albers Executive Speaker Series. All events will be live and held at Seattle University's Pigott Auditorium, 5:30 to 6:30 p.m.
October 17, 2023

Ketul Patel, CEO, Virginia Mason Franciscan Health
Ketul Patel is Chief Executive Officer of Virginia Mason Franciscan Health (VMFH) and Division President for the Pacific Northwest Region of CommonSpirit Health. Additionally, Mr. Patel has executive oversight over the Bailey-Boushay House, the Benaroya Research Institute, and the Virginia Mason Institute. The Pacific Northwest Division of CommonSpirit Health encompasses VMFH as well as two hospitals in Oregon.
Mr. Patel holds master's degrees in health administration and business administration from the University of Pittsburgh, and a bachelor's degree from The John Hopkins University. He is also a member of the American College of Healthcare Executives.
To sign up for the October 17th panel featuring Mr. Patel, please visit our registration page.
January 24, 2024

Preston Feight, CEO, PACCAR
Preston Feight is Chief Executive Officer of PACCAR Inc and a member of the Board of Directors. In his 25 years with PACCAR, Mr. Feight has held positions as Director Product Planning, Chief Engineer, Assistant General Manager Sales and Marketing, General Manager of Kenworth Trucks, DAF President, and Executive Vice President.
He is a graduate of Northern Arizona University (B.S.-Mechanical Engineering) and the University of Colorado (M.S.-Engineering Management). He is a licensed professional engineer and commercial truck driver. In 2017, Preston Feight served as the chairman of the 'Commercial Vehicle Board' of ACEA, the European Automobile Manufacturers' Association.
February 8, 2024

Sean Tresvant, Global Chief Brand & Strategy Officer; Upcoming CEO, Taco Bell
Sean Tresvant joined Taco Bell in January 2022 as the Global Chief Brand Officer. In February 2023, he was elevated to Global Chief Brand & Strategy Officer, and in January 2024 he will become Chief Executive Officer of Taco Bell, succeeding current CEO Mark King after he retires at the end of this year. Mr. Tresvant currently leads a multi-functional team overseeing strategy, global communications functions, food innovation, architecture & design, as well as the Taco Bell international businesses. As CEO, he will assume global responsibility for driving Taco Bell's growth strategies, franchise operations, and overall performance.
Born and raised in Seattle, he received his MBA from Seattle University and his BA and MA in Communications from Washington State University, where he also played basketball for the Cougars.
April 9, 2024

Barry Posner, Leadership Scholar and Author, The Leadership Challenge
Barry Posner is the Michael J. Accolti, S.J. Professor of Leadership and Chair of the Management and Entrepreneurship Department at Santa Clara University. He is the co-author (with Jim Kouzes) of the award-winning and best-selling leadership book The Leadership Challenge. He received the Association for Talent Development's highest award for Distinguished Contribution to Workplace Learning and Performance, was recognized as one of the Top 50 leadership coaches in America, was ranked among the Most Influential HR Thinkers in the world by HR magazine, and was included among the World's Top 75 Leadership and Management Experts by Inc. magazine.

 

Mr. Posner received an undergraduate degree in political science from the University of California, Santa Barbara, a master's degree from The Ohio State University in public administration, and his Ph.D. in organizational behavior and administrative theory from the University of Massachusetts, Amherst.
April 25, 2024

Krish Srinivasan, CEO, PCC Community Markets
Krish Srinivasan is the Chief Executive Officer of PCC Community Markets. He joined PCC in 2018, where he served as CFO until 2022. With 25 years' leadership experience, he built the finance infrastructure and finance teams at Remitly and Lyft. He has held leadership positions at Amazon and Microsoft, driving a range of strategic endeavors. He serves as treasurer on the board of Splash International, a local non-profit.
Mr. Srinivasan earned his MBA in Finance, Marketing, and Economics from the University of Rochester's Simon Business School. He majored in Chemical Engineering, graduating with honors, at the Birla Institute of Technology and Science, Pilani.
Commenting on the 2023-24 speakers, Albers Dean Joseph M. Phillips said, "The Albers Executive Speaker Series is a signature event for the school, gathering the country's best and brightest leaders to share their wisdom and insights with our students. We are especially proud of this year's lineup of speakers who come from a variety of verticals and backgrounds, and look forward to their leadership advice, the challenges they have faced, and what they foresee for their businesses."
About the Albers Executive Speaker Series
Since 2002, the Albers School of Business and Economics has organized the Albers Executive Speaker Series, live panels featuring top business leaders from the Puget Sound Area. Guests talk about a topic of their choice and respond to questions from a panel and the audience. The Speaker Series is yet another way Albers is committed to build student connections with the Seattle business community.
The Albers Executive Speaker Series is free and open to the public.
Alicia Kan
Albers School of Business and Economics
+1 206-296-5732
email us here
Visit us on social media:
LinkedIn
Instagram
YouTube
Twitter
Facebook


Article originally published on www.einpresswire.com as Leadership Scholar and Heads of Virginia Mason, PACCAR, Taco Bell, and PCC to Speak at Albers Executive Speaker Series